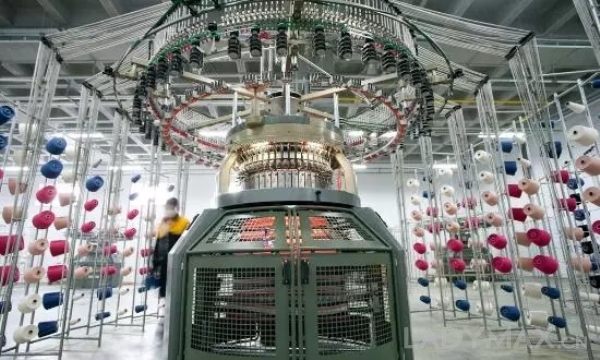 By Huining Zhou, Sheryl
June 4, 2018
Due to continuous rise in performance, China's largest knitted garment manufacturer Shenzhou International, looking as bullish as Tencent, has increased 60-fold in its share price, becoming "the Tencent in the apparel industry".
Despite the fact that the domestic apparel manufacturing industry with low-profit margins has been in decline in recent years, Shenzhou International, backed by moats such as Nike and Uniqlo, has skyrocketed and become the first fashion group with a market value of over 100 billion RMB.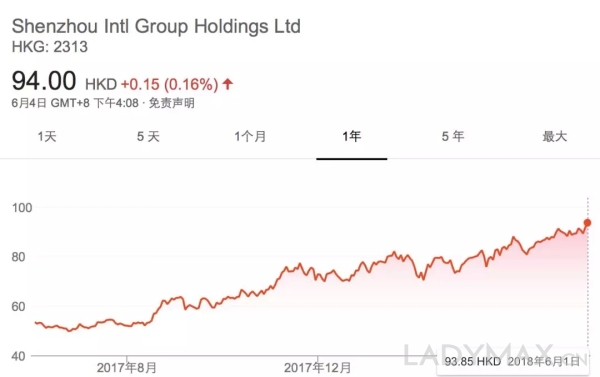 Shen Zhou International's stock price growth over the past year
According to the monitoring of LADYMAX, Shenzhou International Group Holdings Limited (02313.HK) continued to rise by more than 1% to 91 RMB per share yesterday, reaching a record high. Some industry analysts pointed out that the reason why Shenzhou International has been able to maintain the positive growth of its stock price is its own strong profitability.
In fiscal year 2017, the group's sales rose by 19.8% on a year-on-year basis to 18.085 billion RMB, with a gross profit margin of 31.4%, and its net profit soared 27.6% year-on-year to 3.76 billion RMB. Its competitor, Crystal International Group Limited, earned only 2.178 billion RMB last year in operating income, with a gross margin of 20.31%.
During the period, sales of sports products of the group accounted for around 66.6% of total sales, up by 22.8%; sales of leisure products accounted for circa 25.4% of total sales, up by 18.4%; sales of underwear products took up approximately 7.2% of total sales, up by 0.7%.
As Shenzhou International's market gradually expands from Japan to the Asia-Pacific region and Europe and the United States market, some analysts pointed out that Shenzhou International's vertically integrated production lines, diversified products, clients and markets can effectively reduce the group's operating risks and improve its overall competitiveness.
Shen Zhou International was founded in 1989 by Chairman Ma Jianrong, President Guan Yunlin and Ma Renhe. It mainly produces knitted sports products, leisure clothing and underwear garments. Ma Jianrong's ambition can be seen from the group's name. "Shen" is the abbreviated name of "Shanghai", and "Zhou", meaning "continent", implies his ambition to do business in five continents.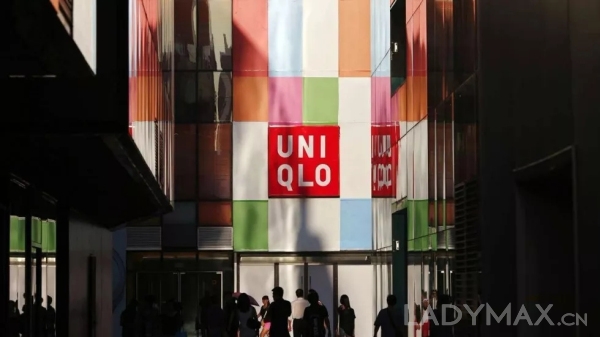 Uniqlo is Shenzhou International's main client
The real turning point of Shenzhou International was in 1997. At the most severe moment in the Asian financial crisis, the group won a production order of up to 350,000 units of Uniqlo, which must be completed within 20 days. If it fails to meet the deadline, it will face risks of closure. In the end, the order was successfully completed and Shenzhou International won the trust of Uniqlo. The two companies have cooperated for more than 20 years.
Subsequently, Shenzhou International also signed three sports brands adidas, Nike and Puma and other international brands, and listed in Hong Kong on November 24, 2005. According to Bloomberg data, among the four major clients of Shenzhou International, fast-selling from Uniqlo's parent company accounted for 21.2%, adidas accounted for 20%, and Nike accounted for 19%. In addition, new clients such as Ralph Lauren and New Balance are also making increasing contributions to the group's revenue.
Since 2010, Nike, adidas' Greater China business, Uniqlo's global business and Puma's Asia Pacific revenue contribution have continued to increase. With the consumption capacity and demand being stimulated, Greater China is a key growth point for foreign brands. Some analysts believe that business from the core clients above is expected to continue to achieve sustainable growth driven by Greater China, which will lead to a surge in orders and prices of Shenzhou International.
Now Shenzhou International has become China's largest knitted garment manufacturer and exporter. In the past ten years, Shenzhou International's compound annual growth rate of revenue and net profit reached 17% and 22% respectively. It is worth noting that in the past 9 years, due to the continuous growth of its performance, Shenzhou International's share price has increased 60-fold, which is the highest investment return in the apparel industry.
In order to further enhance its profitability, Shenzhou International also launched its own apparel brand Maxwin in 2010, which is considered as another "Uniqlo" in the future. In order to accelerate Maxwin's omnichannel strategy, the group will have 49% of Maxwin in 2016. The shares were sold to NetEase to strengthen cooperation with NetEase's powerful digital marketing.
Some analysts have questioned whether it makes sense to launch its own band when Shenzhou International has always been based on OEM business. In response, Ma Jianrong replied that when a traditional clothing company has a certain production capacity, branding is a robust attempt, and Maxwin is still at the stage of exploration.
Shenzhou International also stated that it will focus on measures such as improving product innovation capabilities, corporate operational efficiency, production automation and optimizing human resource management, and attach importance to the entire process of manufacturing including selection of raw materials, processes, equipment selection, and end-of-line processing. continues to improve the environmental protection in order to achieve the sustainable development of the group as a whole.
For the latest U.S. $50 billion taxation bill proposed to China, some analysts believe that Sino-US trade war has a minor impact on Shenzhou International, because the group has a lot of production capacity outside China. Once the U.S. imposes tariffs on Chinese clothing imports, the group can make timely adjustment of order allocation.
After the release of Shenzhou International's financial report last year, Morgan Stanley and Citibank remained optimistic about the prospects of Shenzhou International, and Dahe forecasted that the orders of Shenzhou International in 2018 will continue to grow and it is expected that the output growth will outperform its competitors.
Analysts from Jeffries Group LLC pointed out earlier that due to favorable factors such as strong growth in sports supplies, textile integration, Vietnam expansion and optimistic outlook, it is expected that Shenzhou International's revenue in fiscal year 2018 will increase by 17.2% year-on-year to RMB 21.2 billion, net profit rising by 20.2% to RMB 4.5 billion. It is expected that the Group's revenue in fiscal year 2019 will increase by 16.7% to RMB 24.7 billion and net profit will further increase by 20.6% to RMB 5.5 billion.
In the past year, the share price of Shenzhou International has risen by 74.93% and the market value has recorded HK$141.3 billion.
更多
ShenZhouInternational
的资讯