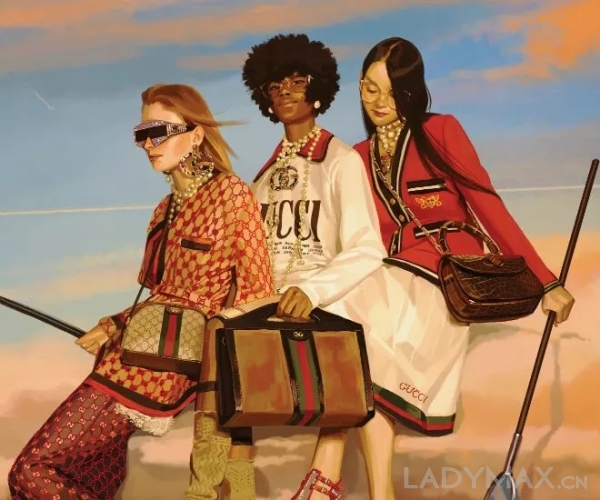 By Chaos May 8, 2018
Gucci could dwarf Louis Vuitton one day, François-Henri Pinault, CEO of Kering made the provocative remarks in an interview with the Financial Times last week.
The statement is not surprising if you know the history between the two brands whose owners could trace their rivalry back to 1999 when Bernard Arnault acquired a 34.4% stake in Gucci for USD 1.4bn and turned down a full acquisition proposal.
Later on, PPR, Kering's predecessor, bought a 42% stake in Gucci for USD 3bn and agreed to maintain the target's independence. As the stake held by LVMH was diluted to 20%, vexed Mr. Arnault filed a lawsuit against Gucci. In 2001, LVMH finally agreed to sell its stake to PPR for USD 8bn.
Pinault's confidence also stems from Gucci's outstanding performance: the company booked a record high 49% sales growth to EUR 1.966bn in 2018 Q1, outpacing its competitors for nine quarters in a row. LVMH's fashion and leather goods division grew by 16% to EUR 4.27bn in 2019 Q1. Despite the gap, Gucci is catching up.
Gucci owes the impressive success to its CEO Marco Bizzarri and creative director Alessandro Michele. The pair, the former is known for his astute business brain and the latter an idiosyncratic sense of style, is breaking the spell of the industry.
However, "brands that are popular now won't be as popular in two years", Paola Cillo, associate professor of management at Milan's Bocconi University, was quoted by the Financial Times.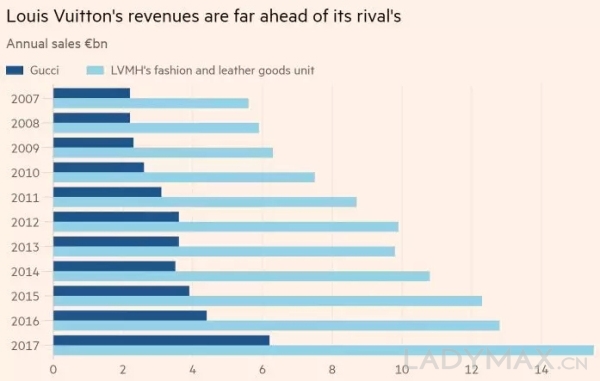 LVMH fashion leather goods department and Gucci's annual sales comparison performance over the last 10 years
Gucci wins hearts of millennials consumers, the fastest-growing group, Bain analysts said. Mr. Bizzarri told the Financial Times in an interview last year that over 50% of its customers are millennials. Whereas Mr. Pinault, the head of Gucci's parent company, said that it is important to "reach customers over time."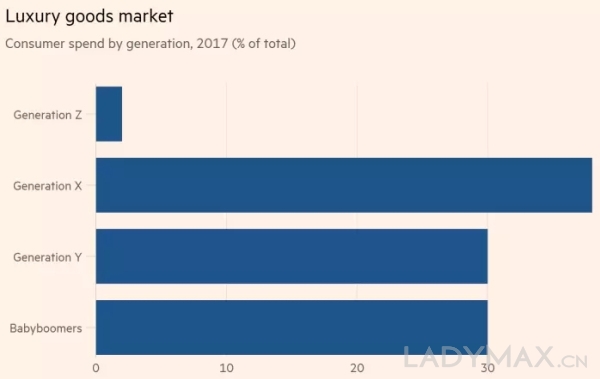 Consumer spend by generation, 2017
However, according to our observation, despite Gucci's fast-growing performance, the gap between the revenue of Gucci and Louis Vuitton almost equal to that of Dior couture.
Although LVMH has never disclosed Louis Vuitton's specific sales data, some analysts estimate that the brand's revenue in the LVMH fashion leather goods sector accounts for about two-thirds or 9.3 billion euros.
Luca Solca, luxury goods analyst at Exane BNP Paribas, argued that it will not be easy for Gucci to surpass Louis Vuitton. Unlike Gucci, Louis Vuitton has no outlet and wholesale businesses. That helps to maintain its brand exclusiveness. Besides, the leather goods division of the group contributes over 90% of the revenue. The fact that Louis Vuitton is less diversified than Gucci actually gives the French luxury company greater potential to branch into other categories. There are also concerns about Gucci's over-exposure.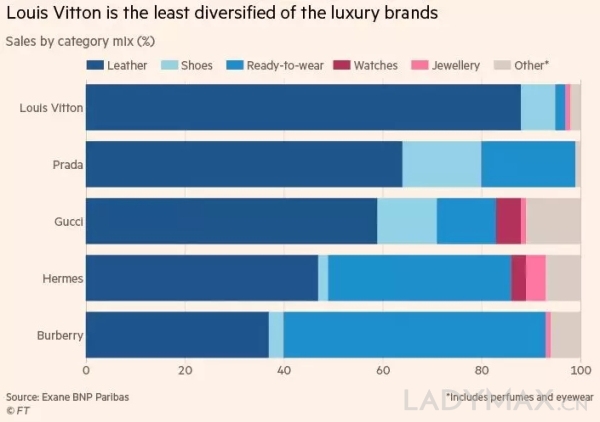 Business composition of major luxury brands
Thomas Chauvet, a Citigroup analyst, said that the "extreme consistency" of products and brand image of Louis Vuitton had allowed it to create canvas bag with its "Neverfull" logo, a cash cow product, adding that the cooperation with streetwear brand Supreme and artist Jeff Koons had received impactful marketing effects and further raised its visibility.
It seems Pinault is betting on the continuous fast growth of Gucci while Arnault wants to limit the already grand size of Louis Vuitton to keep its attractiveness.
更多请微信搜索时尚商业实验室加关注
更多
GUCCI
的资讯