Translated By Chaos May 12, 2018
Prada which tends to have "divisive rhetoric" is recovering.
Prada, an Italian luxury brand that never follows the crowd, seems to be regaining young consumers in its own way.
According to Fashion Business News, as Prada's sales are picking up, OppenheimerFunds, an U.S. financial service company, has recently increased the stake it holds in the Italian group from 4.96% to 5.08% by buying 3.018m shares at an average price of HKD 39.8511 per share, totaling HKD 120m (USD 15.3m).
UBS analysts estimate that Prada could see a 25% retail sales density growth, a measure of revenue generated per sales space, by 2020. The bank also predicts that from this year the company will stage a comeback at a 7.5% annual growth rate after years of sagging sales performance. Since the beginning of the year, many financial institutions including Deutsche Bank, Lyon, and Macquarie have raised their target prices and ratings for Prada SpA.
It should be noted that, prior to the OppenheimerFunds investment, Prada staged its Resort 2019 Collection on May 4th at the Herzog & de Meuron-designed New York headquarter. The show was also streamed live in Times Square. Miuccia Prada, Prada's creative director, said in an interview with Women's Daily, a U.S. fashion magazine, that New York is a key location for Prada's reinvigoration in the American market. It also indicates that this year will be a new starting point for Prada.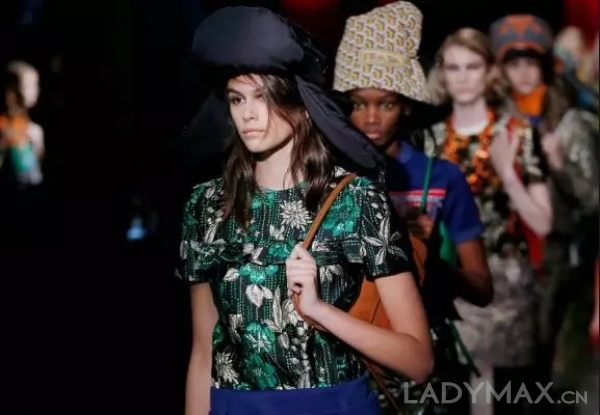 Prada 2019 Resort
In Prada's Resort 2019 fashion show, Miuccia Prada seamlessly combines elements such as color, pop printing, and leather stitching with neat cutting and contour, reviving the geeky-cool Nineties. In contrast to previous elegantly playful styles, this year's collection is empowered by rebelliousness.
Since Chinese consumers are increasingly important to the group, Miuccia Prada also incorporates Chinese elements such as feathers into the collection to attract more and more young Chinese consumers.
In fact, Prada has always been known to keep a low profile for its pre-spring collections. Several years ago, Miuccia Prada, always the maverick, released her early-spring women's collection in June at the same time as his men's collection. It was not until last year that she returned to releasing her collections according to industry norms. Asked about why they decided to change, Miuccia Prada explained that, "Adjustments must be made in order to adapt to the market."
Miuccia Prada stressed that she does not like swimming with the stream, instead, she prefers to do something flying in the face of the trend. For instance, Prada still insists on holding separate men's fashion show when other major brands begin to combine men's and women's fashion shows. She explained that this is not simply because of the importance of the menswear unit, but also because there are concerns about the attention given to menswear products might be weakened as a result of the combination.
When talking about the lasting of popular street style fashion trend, Miuccia Prada said that it is hard to say as the definition of street style is too broad, and one should not conflate it with just jeans or sneakers, after all, nothing is eternal in the ever-changing fashion industry.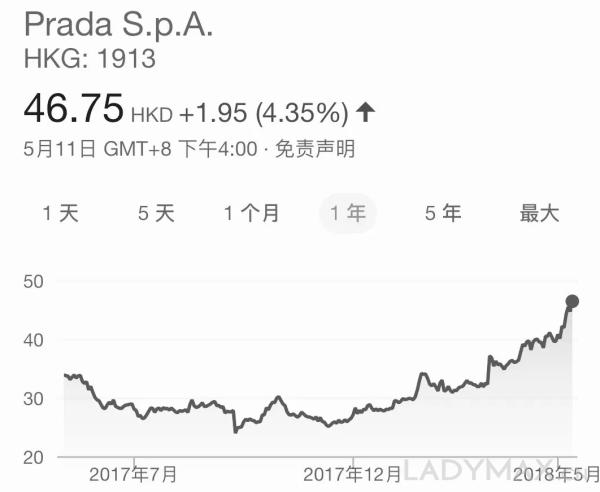 Some view Italian luxury brands are slower to adjust than other European luxury brands. Despite the signs of improvement, Prada SpA still lags behind other competitors, like LVMH, Kering Group, and Hermès. However, the signs seem to be a silver lining for Italian luxury industry.
In fact, Prada SpA owes the return to the CNY 100bn club (USD 15.8m) to China's voracious appetite for luxury goods. With the recovery of Chinese luxury goods consumption, the luxury brands identify China as their key markets will benefit from it eventually.
According to a Bain & Company report, in 2017 China recorded luxury goods sales revenue of CNY 142bn (USD 22bn), up significantly by 20% from 2016, the largest increase since 2011 and outpaced outbound tourism shopping growth.
Prada SpA's improved performance in the Greater China Region boosted the confidence of the capital market. The Group launched its official website with e-commerce services in China in last December. All products being sold in brick-and-mortar stores, including clothes, leather goods, accessories, eyewear, etc., can be found on the website. Consumers can also pay by WeChat Pay and Alipay.
LADYMAX's statistics show that Prada SpA booked revenue of around EUR 3.056bn last year, EUR 645.9m of which came from the Great China Region, up by 7.7% based on a constant exchange rate; The group's gross profit margin rose from 72% to 73.5% y-o-y. Alessandra Cozzani, the group's chief financial officer, explained earlier on a conference call that the Greater China Region recorded double-digit growth in the third and fourth fiscal quarter last year and in January 2018.
The data has shown that Prada SpA's previously weak performance was in step with global sluggish luxury markets. Like other Italian luxury brands, family-run Prada has been floundering with anachronistic products and sagging performance since 2013.
Having realized its problems, Prada SpA reviewed its business strategies in 2016 and tried to boost sales performance by adopting measures such as refurbishing stores, launching of pilot pop-up stores and a digital marketing strategy "Prada365".
In addition, Prada has also actively recruited young designers to encourage product innovation, adjusted product structure, and launched much more entry-level products to attract new young customers.
However, Prada could attribute its slow recovery to Miuccia Prada who never repeats her own designs, and who does not blindly cater to young customers, or create a sense of farfetched intimacy just as what other luxury brands do; Instead, she maintains her usual sense of distance.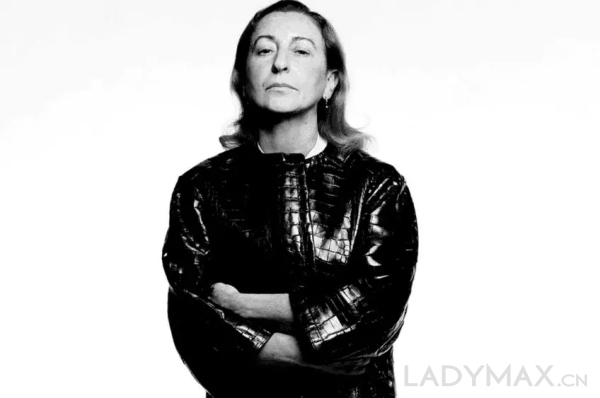 Miuccia Prada stressed that she does not like swimming with the stream, instead, she prefers to do something flying in the face of the trend.
Interestingly, it is Miuccia Prada's unique style that helps Prada keep a number of loyal customers who will never change their style and preferences no matter where fashion trends might go, just like Prada, the brand they follow. Therefore, from another perspective, Miuccia Prada's insistence wins her the followers.
Except for its unique designs, Prada SpA is also different from its competitors in terms of fashion and art combination. When brands such as Louis Vuitton and Gucci continue to collaborate with famous artists to launch collections to attract young consumers, Miuccia Prada confirmed her unwillingness to do so, even though many of the artists are good friends of her. The collaboration is only driven by money, in her view.
Nevertheless, it does not mean that Miuccia Prada has lost her passion for art. She just chose to associate Prada with art in a more meaningful way. Last October, Prada completed the restoration project of Shanghai-based Rong Zhai which started in 2011 and unveiled the century-old building to the public. Given the significance of Rong Zhai to modern Chinese history, the influence of the move was so far-reaching that it quickly caught the eye of the cultural community.
Some analysts believe that Rong Zhai has an epoch-making significance for Prada's brand image in China. Although the project is not directly linked to sales, it undoubtedly further cements Prada's intellectual and high-end artistic brand image, and help the brand rid the stereotype impressions among Chinese consumers, allowing customers to gain access to the essence of the luxury brand.
Undoubtedly, Prada which tends to have "divisive rhetoric" is recovering, although there is still a long way to go. There are many problems to fix before the unyielding Prada can pick itself up and break into a gallop.
A "Crisis" is probably lurking on the journey of expanding into the Chinese market. Bloomberg has warned that global luxury brands, which are widely recognized but underperform such as Prada and Salvatore Ferragamo, could be potential takeover targets for Chinese acquirers.
Prada SpA(01913.HK) recorded a market cap of HKD119.2bn on May 11th, a three-year record high.
更多
Prada
的资讯