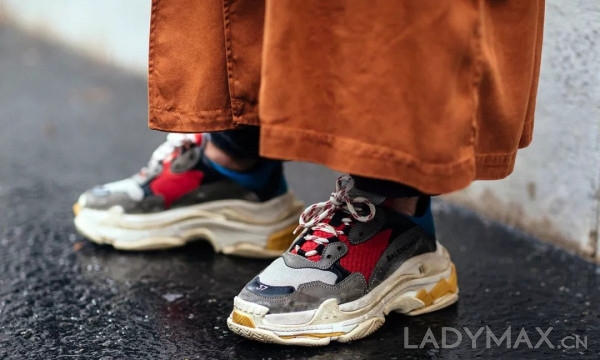 By Chaos May 17, 2018
There is no shortcut for luxury companies to handle public relation crises,especially in China.
On 25 April, a viral video footage showed that some Chinese shoppers queuing up for Balenciaga's popular clunky Triple S sneakers in Printemps was badly mistreated by Printemps' staff after a Chinese customer scolded some queue jumpers.
The "Queuing incident" has sparked a storm of criticism online against Balenciaga, the French luxury brand, with its WeChat Index, a tool that tracks trending keywords, even 10 times as many as that of Gucci's, the then hottest brand.
After the chaos,the Printemps' store manager posted the first statement via the company's official Instagram account to apologize in the next day.
As the incident kept simmering, Chinese netizens shared the videos and expressed their dissatisfaction on several official social platforms of Balenciaga. On the evening of April 26th, Balenciaga issued an official statement which only said it "regrets the incident" and made apologies. The statement, displeased by many netizens, triggered a new round of boycotts, and even affected Gucci, another brand from Balenciaga's parent Kering.
In the early morning of April 28th, Balenciaga released another statement, saying that four measures would be adopted, including investigating the incident, having the duties of the staff involved suspended, an introduction of a new standard operating procedure, and making apologies to the Chinese consumers present.

The second statement from Balenciaga
Both the statements were issued on Balenciaga's chinese Weibo and WeChat accounts. However, it was not until two hours later did they surface on the company's Twitter page, The statements, published on the company's Instagram as "stories", were removed 24 hours later.
The incident further ballooned with the release of the two statements within 24 hours.
By April 26th Balenciaga's WeChat Index has rocketed by 1608% and replaced Gucci to ascend to the top of the index ranking since the incident broke out. The brawl that hit the headlines of fashion sector has evolved into a social event after Chinese mainstream media including the "Voice of China" and the "Global Times" followed this incident on Weibo, and the BBC reported the event. The hashtag #BoycottBalenciagaDiscriminatesAgainstChinese has achieved 35.8 million times of clicks, leaving 24,000 comments.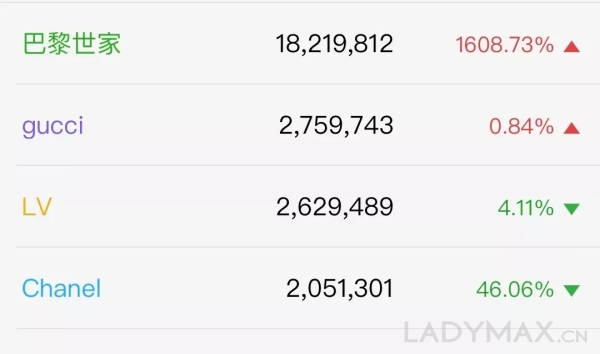 Balenciaga's WeChat Index has replaced Gucci to ascend to the top of the index ranking after the incident broke out
In the era of social media, fashion companies, which find it hard to avoid potential brand image crises, are most likely to respond immediately after the crises break out in order to appease customers.
In June 2016, Lancôme, a cosmetic brand under L'Oréal Group, and Listerine, an oral care brand under the Johnson & Johnson Group, invited singer Denise Ho to attend their brand promotion events in Hong Kong, sparking hand-wringing and boycotts by Chinese netizens for the artist's earlier political attitude.
Lancôme China apologized on its official Weibo that night, stressing that Denise Ho was not the brand's ambassador, but the brand's Facebook page did not do post anything about this incident. The company has come under fire due to the clumsy quasi-wordplay public relations in the crisis. Finally, a group of aggressive consumers gathered outside Lane Crawford in Hong Kong's Causeway Bay, holding banners and posters.
In most cases, brands choose to play down incidents or simply ignore it.
Taking Montblanc as an example, in November 2016, the confession of his extramarital affair by Lin Dan, the brand's ambassador in China and the two-time badminton Olympic champion, disappointed most netizens. Some netizens called for the change of an ambassador. Since then, Lin Dan had been rarely mentioned on the social media platforms of Montblanc until a new ambassador was found.
Last year, Estée Lauder unexpectedly invited PG One, a rapper who rose to fame quickly via the rap TV show "The Rap of China", to shoot an advertisement for its lipsticks. After the rapper was caught in an extramarital affair with another celebrity, Estée Lauder has been trying to use PG One's sobriquet "Magneto", also a fictional character, to refer to the rapper, igniting backlash by the character's fans. Estée Lauder had to remove all commercials quietly and weathered the crisis.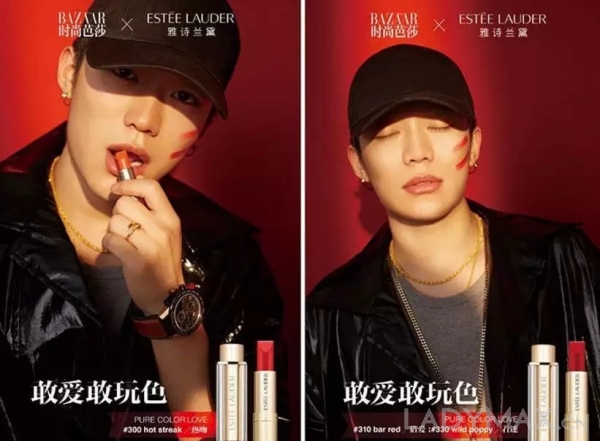 Estée Lauder unexpectedly invited PG One to shoot an advertisement for its lipsticks
This seems to suggest that crisis can be resolved by a "sitting-by" approach. However, because the development of social media has cut the cost of voicing opinions, also, because the more radical, conflicting, and contradictory the views are, the more widely they can spread, companies may find no other option but resort to sincere dialogues and action.
On the day of the "queuing incident", Balenciaga's social media platforms were flooded with criticism from Chinese netizens. Even some of its unrelated Instagram blogs were inundated with 30,000 negative comments quickly, compared with merely 100 responses before. Public opinions weighed on the brand which had attempted to sit by aloofly.
Some marketing experts pointed out that luxury sector is among the sectors which tend to draw much attention on the social media, in addition to food and healthcare, because consumers are paying for the high added value to a large extent.
If such price premium cannot reward their consumers with the equivalent good-quality products or services, consumers' negative emotions can be easily provoked. More importantly, luxury fashion brands, relying on constant exposure to burnish their brand images, are inevitably in the spotlight.
Emotions are contagious on social media. The Lancôme incident is a lesson learned. Although social media facilitates direct dialogue with consumers, companies may find it difficult to channel public opinions as the internet has accelerated the speed and scope of information dissemination. In other words, any inappropriate move, even it may seem to be unnoticed, may hit the headlines and spread quickly.
Social media is a double-edged sword. The fashion brands should realize that what those protesters expect to see is the actions taken by them rather than a play on words.
In February 2011, after John Galliano, the former creative director of Dior, was detained for his drunken anti-Semitic comments, Dior immediately suspended his position, pending the outcome of the police investigation.
After John Galliano was found guilty, Dior fired him. Sidney Toledano, Dior's Chairman and Chief Executive Officer, said in an official statement that "We unequivocally condemn the statements made by John Galliano which are in total contradiction to the longstanding core values of Christian Dior."
Dior's handling of the crisis showed that timely response is necessary, however, a sincere and clear attitude shown to consumers is even essential.
In contrast, without investigating potential racism discrimination, Balenciaga failed to attach enough importance to Chinese consumers and failed to communicate with consumers properly both before and after the event.
In the second statement, Balenciaga said that it was investigating, disclosing neither the disciplines in the workplace nor the progress of the investigation. It did not clarify how it would deal with the managers involved, neither did it give the details of the preventive measures it might adopt, but only used the ambiguous "new standard operating procedure".
According to industry insiders, nearly 70% of 2,000-plus high-spending clients in Printemps' list are from China, but even regular customers did not receive any preferential treatment when they shop or file after-sales complaints. To comment the blogs related to the incident, a large number of netizens shared their experiences of being treated badly by Balenciaga staff in France.
In spite of Balenciaga's hasty and careless first statement, we should not overinterpret the alleged "discrimination scandal". The response of the brand at least suggested that it was willing to take responsibility and initiate direct dialogues.
Balenciaga's losses incurred by the incident remain unknown so far. However, there are signs to show that Balenciaga is making efforts in its designs, corporate governance and sales.
Balenciaga is the largest contributor to Kering, other than other Gucci, Saint Laurent and Bottega Veneta, accounting for about 20% of sales in this category. Analysts estimate that, with USD 500m annual sales revenue, Balenciaga has the potential to enter the USD 1bn club. With constant social media exposure in recent years, there is still great market potential for the brand. The main mission of its new CEO Cédric Charbit is to accelerate the globalization of the Balenciaga brand.
Undoubtedly, thanks to their strong purchasing power, Chinese consumers have a significant role in the global luxury fashion industry. With the development of social media, it is easier for consumers to find substitutes, so they may attach less loyalty to brands. In the long run, how to establish more positive interactions with Chinese consumers has become the crux of maintaining sustainable development by luxury brands.
Consumers could feel it immediately about whether a company is sincere or not. There is no shortcut for luxury companies to handle public relation crisis, especially when social media has become a loudspeaker today.
更多
balenciaga
的资讯